THE CARIBE


The Caribe is half sit-on-top kayak, half canoe, and all FUN!

The crystal clear hull of the Caribe provides a window to the underwater world. The clear modular hull and design is unrivalled in the kayak industry. Due to its patented design, multiple configurations can be achieved from this kayak. Whether you are hunting for treasure, fishing for trophy fish, or diving the reef, there is a Caribe accessory to suit your needs.
The Caribe comes standard with forward deck rigging, front bow drain, rear tie down cleats, and easy-grip handles. Accessories include a drop in fishing adapter, foot braces, and three seating packages. Canoe seats, ergo-formed seats, and cushy seats with forward lumbar support.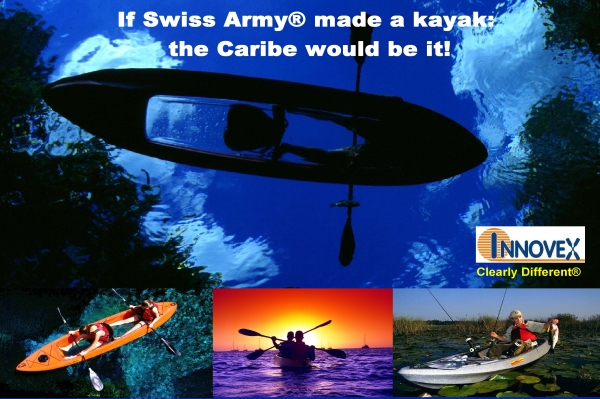 Click on the image above to view the different configurations of the Caribe.


Specifications

Weight:
63 lbs. (base boat)
Max. Capacity:
450 lbs.
Length:
12'
Width:

30"

Colours:
Various colours and styles

Clearly Different ® is a registered trademark of Baywood Enterprises, number 78100102. Kiwi Clear Kayaks are protected by US Patents 6,394,020 and 6,745,716 and 7,021,234.