CARIBE FISHING ADAPTER

If you are into fishing, the Caribe fishing set is for you. Paddle the Caribe as a tandem sit-on-top kayak, a family FUN boat, or as a solo or tandem canoe. And when you are ready to go after the "Big One", take three minutes and convert the Caribe to a stealthy fishing platform.

ONE kayak, many uses, thanks to the modular construction of the Caribe.

The Caribe fishing adapter package includes the 'module' which acts as a dry storage compartment or live well with plenty of interior space as well as a comfortable seat for all day angling. The set includes 4 rod holders, two flush mount sockets on the rear deck and two on the foot braces. Your dealer can provide kayak accessories to make your fishing excursions more productive.

When we first produced the fishing adapter, we were skeptical that the clear hull would allow fish to better see the angler, however, we have found the opposite. Since light is permitted to pass through the hull, fish are not spooked by a large shadow from above.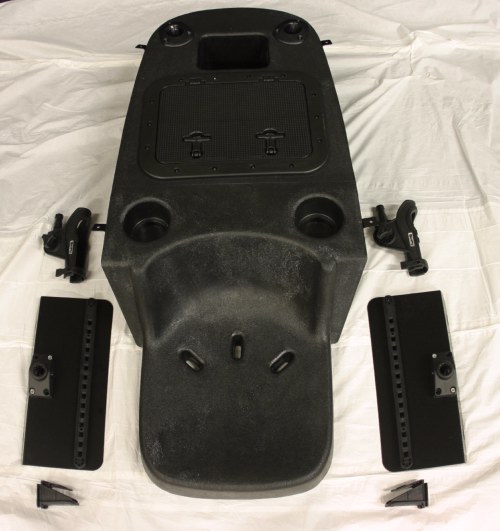 B
ack